What are mutual funds?
A mutual fund is formed when the capital raised by different investors is invested in shares, stocks or bonds of the company. Shared by thousands of investors (including yourself), a mutual funds investment is collectively managed to generate the best possible return.
The person driving this investment vehicle is a professional fund manager.
Mutual funds investment is the easiest way to increase your wealth. This is why the experience of the fund manager (and, therefore, the reputation of the management company) is an important factor to consider.
All mutual funds are registered with the Stock Exchange Board of India (SEBI) and, therefore, are quite safe. In Hindi, it is said that "Mutuals Funds Sahi Hai ".
Mutual funds basically include:
Money pooled by several people (investors)
Professionally managed
Well regulated (by SEBI)
Higher returns than conventional investments
Access to the main portfolios
It allows you to invest in small amounts
What are the benefits of choosing mutual funds?
Mutual funds offer a variety of features and benefits as an investment method.
So it is the most profitable investment option.
Other various benefits of choosing mutual funds investment are as follows:
Expert in money management
Individual investors may not have the time or professional experience to choose the fund in which to invest. A mutual fund company employs professional managers to manage the funds raised in its funds.
They decide what part of the company, what sectors/stocks or what debt securities to invest or not have capital. Your decisions will be in the interest of investors.
Block period
Blocking periods vary from one investment fund to another. One month to anyone. For example, ELSS is an efficient fiscal mutual fund with a shorter 3-year blocking period.
The longer the retention period (in addition to the mandatory block), the better the returns and vice versa. Permanent mutual funds investment generally do not have a blocking period and you can close them or eliminate them at any time.
At low prices
Mutual funds are a convenient investment option for people who do not want to make a large initial investment. Mutual funds investment companies apply nominal rates, known as expense ratios, between 0.5% and 1.5% and can not exceed 2.5% in accordance with SEBI regulations.
They deduct the expense ratio of the money invested, Investors support transaction commissions in proportion.
SIP option
If you do not want to make a single investment, you can invest in smaller and more manageable payments called SIP (Systematic Investment Plans). SIPs promote financial discipline among investors.
SIP being an average rupee cost, it is an ideal alternative for middle and low-income investors. You can start at Rs. 500 to make your first bet with ClearTax.
Flexibility to change funds
A serious investor (or fund manager) knows when to switch from the current mutual fund investment to another to continue or stand in front of the market. There are many mutual funds investment systems that allow it. The asset manager should watch the market to find out. This guarantees better returns without being burned by market volatility.
Investments based on objectives and specific sectors
Each investor has a financial objective. It can be a short-term goal, such as an international vacation or a long-term goal, such as a fixed income after retirement.
In addition, the different systems focus on different assets and result with different risk factors. This allows investors to carry money in different asset classes based on their appetites and risk objectives.
Diversification
Mutual funds investment in assets, size of assets and number of shares to distribute the risk. When one has a lower performance, the other victories can equal the loss. It's diversification.
However, it is recommended not to invest too much (more than 5), since this can be difficult to monitor. In addition, the actions of these companies always tend to be homogeneous, which go beyond the desired objective.
Flexibility in terms of mandate
Most mutual funds investment does not have time limitations unless otherwise specified. The ELSS, a tax savings fund, is the only mutual funds investment with a fixed minimum period of 3 years.
This offers investors great flexibility in their financial goals, both short and long term. Investing for a period of time also makes it easier to plan when and how to invest and when to invest.
Liquidity
Mutual funds investment is fully liquid investments. You can change your money invested at any time. You do not need to justify your decision or look for a buyer. Simply make a request to your mutual funds' investment and get the money credited to your account in 2-3 business days.
Spoiled for the election
There are different types of mutual funds investment according to the investment objectives, the individual risk propensity, the sectors and the size of the fund, among others.
However, research and analysis can be a tedious task. ClearTax can select personalized plans from the best mutual funds companies in the country according to their profile.
Painless trading and transactions
Buying, selling and exchanging a fund at the current market price per unit (NAV) is very simple. All you have to do is ask the fund company and the fund manager will do the rest. Thanks to its easy liquidity, mutual funds investment can be used as emergency funds.
Tax benefits
Mutual funds (ELSS) have consistently exceeded the more conventional 80 C options, such as FD, PF, etc. 1 lakh This amendment to the LTCG applies only to capital and equity-oriented plans.
However, due to the higher yields, the capital gains in ELSS will always be higher.
Safe and secure in every way
All mutual funds investment companies report to the government agency SEBI (Securities Exchange Board of India) and AMFI (Association of Mutual Funds in India). It's as safe as putting money in a bank.
Easy to monitor and make informed decisions
Investors in India may not have the time or knowledge to objectively analyze the performance of mutual funds. This is the reason why mutual funds investment companies provide investors with regular returns, which facilitates the monitoring of their income with mutual funds investment.
Mutual funds investment facilitate investments for you. Each mutual fund is designed to achieve different objectives.
This is especially useful for people who do not have the time or patience to search and choose wisely.
So the people who want to earn huge profits has to make mutual funds investment. There are huge benefits in mutual funds investment.
When to invest in mutual funds?
Factors that must be considered before investing in mutual funds investment are as follows:
1. Availability of funds
2. Market conditions
3. Desired investment time
4. Expected returns
However, for a normal person, this could be a very difficult factor in all these areas, therefore, you should opt for a SIP from today or soon.The best time to do mutual funds investment is when you have money. This does not mean that these mutual funds are expensive.
Conversely, last-minute investments (for example, at the end of the fiscal year) are often derived from hasty decisions. The ups and downs of the stock market, as reported, can influence individual decisions. The truth is that not all mutual funds invest in stocks.
If you still see poor performance, do not hesitate to sell them. The basic rule of any mutual investment is to start early. The longer you wait, the more you lose the potential for return. So the right time to do mutual funds investment is always NOW.
How to invest in mutual funds?
1.Identify your investment objective
This is the first step to do mutual funds investment. You must define your investment objectives: buy a house, raise a child, a marriage, a pension, etc. If you do not have a specific goal, at least you should have a clear idea of ​​the amount of time.
The identification of an investment objective helps the investor to identify investment options according to the level of risk, the payment method, the blocking period, etc.
2.Fulfill know your customer requirements (KYC)
To invest in a mutual fund, investors must comply with KYC guidelines. For this purpose, the investor must present a copy of the Permanent Account Number (PAN) card, proof of residence, proof of age, etc., as specified by the cashier.
3.Know the available schemes
The mutual fund investment market is full of options. The systems exist to satisfy almost all the needs of the investor. Before investing, make sure you have done your homework by exploring the market to understand the different types of plans available.
Then align it with your investment objective, your appetite for risk, your convenience and see what is best for you. Ask a financial advisor for help if you are not sure what plan to invest in. In the end, it's your money. You must ensure that it is used to extract maximum yields.
4.Consider the risk factors
Remember that investing in mutual funds investment involves a series of risks. Plans with high returns are often accompanied by high risks. If you have a strong taste for risk and want high returns, you can invest in capital systems.
On the other hand, if you do not want to risk your investment and agree with moderate returns, you can opt for debt schemes.
Once you have identified your investment objectives in mutual funds investments, met the customer's knowledge requirements and explore different plans, you can start mutual funds investment.
A bank account is also a money order when mutual funds investment is done. Most mutual funds investment companies will require a physical or online copy of the canceled control sheet with the IFSC code (Indian Financial System Code) and the Bank's Magnetic Ink Character Recognition (MICR).
There are many different ways to invest in mutual funds investment. Some of these ways are listed below:
1.Offline investment directly with the house of mutual funds
You can invest in mutual fund plans by visiting the nearest branch of the fund.
Make sure to bring a copy of the following documents with you:
Proof of residence
Proof of identity
Canceled checklist
Passport size photo
The mutual funds investment in India will provide you with an application form that you will need to complete and send along with the necessary documents.
2.Offline investment via a broker
A best mutual fund dealer or distributor is someone who will help you through the investment process. That person will provide you with all the information necessary for your mutual funds investment, including the characteristics of the various mutual funds investment plans, the necessary documents, etc.
It will also tell you which programs you should invest in. For this, you will have to pay a commission which will be deducted from the total amount of the investment.
3.Offline investment via a broker
Most mutual funds investment companies today offer the opportunity to invest in mutual funds online. Just follow the instructions provided on the official cashier's website, complete the relevant information and send it. The KYC process can also be done online (e-KYC).
You must enter your Aadhar and PAN numbers. The information will be checked in the back-end and once the verification is done, you can start investing. The online mutual funds investment process is simple, fast and hassle-free. It is therefore preferred by most mutual funds investors.
4.Through an application
Many mutual investment fund companies allow investors to make investments through an app that can be downloaded to your mobile device. The application will allow investors to invest in mutual funds, buy or sell units, view account statements and view other information related to their portfolio.
The mutual fund investment companies such as SBI, Axis, ICICI Prudential, Aditya Birla SunLife, and HDFC are some of the mutual fund companies that allow investments via an application. Some applications such as myCAMS and Karvy allow investors to invest and access details of all their mutual funds investment with multiple mutual fund investment companies on a single platform.
Documents needed to apply for
mutual fund investment plans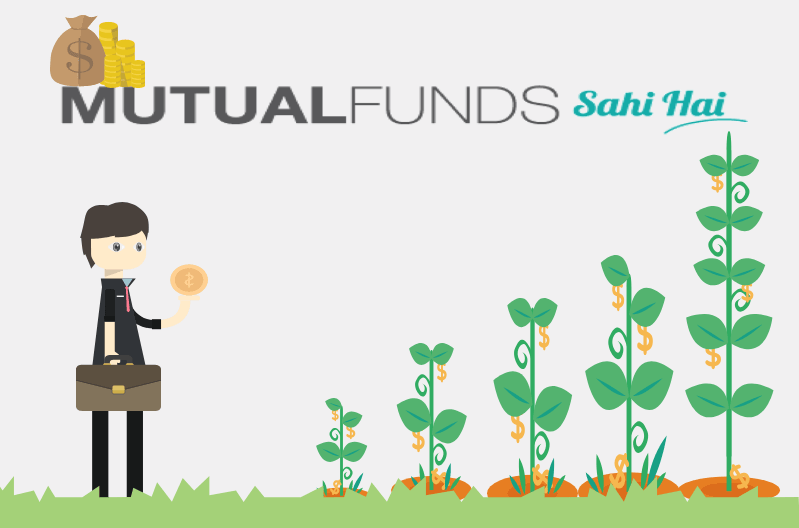 You need to provide below mentations documents to apply for an
mutual fund investment plans
5.Bank Account Statement/Passbook maximum 3 months
Types of mutual funds investments are generally classified according to - the investment objective, the structure and the nature of the plans.
With the aim of investing in mutual funds investment, there are top 7 mutual funds in India:
Equity or growth funds
Fixed income funds or debt funds
Tax savings funds
Money market or liquid funds
Balanced funds
Gilt funds
ETF (Exchange Traded Funds)
Different types of mutual funds are explained below:
1.Growth or participation plans:
These are one of the best mutual funds plans. These mutual funds invested in equity securities and the objective of the investment is to achieve capital gains in the medium or long term.
They are associated with high risks because they are linked to highly volatile stock markets but offer good long-term returns.
As a result, investors with a strong risk appetite see these systems as an ideal investment option. Growth funds can also be classified as diversified, sectorial and indexed funds.
2.Balanced funds
These type of mutual are second best mutual funds in India. These mutual funds investment is a combination of debt and equity. Investors can expect a regular income and growth at the same time with these mutual funds investment.
They are a good investment option for investors willing to take moderate risks in the medium term.
3.Debt funds:
Also known as fixed-income funds, they invest in fixed income securities or debt securities such as bonds, corporate bonds, commercial paper, government bonds, and various money market instruments. These are the third best mutual funds in India.
For those seeking a stable, stable and risk-free income, debt funds may be the ideal option. Gilt funds, liquid funds, short-term plans, income funds, and PIPs are subcategories of debt funds.
4.Tax savings fund:
Those who wish to increase their capital by saving taxes can opt for tax savings programs. Investors can benefit from tax reductions under section 80C of the Income Tax Act of 1961 through tax savings funds, also known as share-based savings plans.
5.Exchange Traded Funds (ETF):
An ETF is listed on a stock exchange and has a basket of assets such as bonds, gold bullion, oil futures, foreign currencies, etc. These types of mutual funds are one of the best mutual funds in India. These mutual funds investment offer flexibility to buy and sell shares in the stock market during the day.
6.Open schemes:
In an open scheme, units are bought and sold continuously, allowing investors to come and go as they please. The purchase and sale of funds are made at the Net Asset Value (NAV).
7.Closed schemes:
In this type of scheme, the capital of the unit is fixed and only a specific number of units can be sold. These mutual funds types are considered as one of the best mutual funds investment.
The investor cannot buy the units of a closed system once the new offer of funds (NFO) has been approved, which means that they cannot leave the system until the end of the mandate.
Q.What are mutual funds?
A mutual fund is an entity that pools the savings of several investors and invests the same in various financial instruments or securities. Revenues from these mutual funds investments and capital appreciation from the system are shared by its participants or investors in proportion to the number of units they own.
Q.Which are the top mutual funds' types in India?
Equity Funds/ Growth Funds
Diversified funds
Sector funds
Index funds
Tax Saving Funds
Debt / Income Funds
Liquid Funds/ Money Market Funds
Gilt Funds
Balanced Funds
Hedge Funds
Q.What are entry loads in mutual funds investment?
The non-refundable fee paid to the asset management mutual funds investment company at the time of the purchase of the mutual fund units is defined as income. The entry fee is added to the NAV (purchase price) when buying mutual fund units.
Q.What are exit loads in mutual funds investment?
The non-refundable fee paid to the portfolio management company on the exchange/transfer of units between UCITS is defined as an exit fee. It is deducted from the NAV (sales price) at the time of said refund/transfer.
Q.Why should I invest in mutual funds?
Benefits of investing in top mutual funds:
Disciplined investment approach
Rupees are the average
Avoid investment motivated by feeling
Allows investments in small quantities
Convenience
Q.What is the difference between the SIP application of the mutual fund and the SIP order of the mutual fund?
The SIP application of the Common Fund is an authorization you have granted to the EPA for the entry of orders in accordance with the instructions mentioned in the application.
The orders placed by IIFL in accordance with its authorization, the SIP requests are called SIP orders of the Common Fund.
Q.How are mutual funds setup?
The process of creating a pool is initiated by a sponsor. The promoter creates a trust (the fund) under the Indian Trust Act, which in turn appoints an asset management company.
The Trustees are responsible for protecting the interests of investors in the Pooled Fund by ensuring that its operations comply with applicable regulations.
Q.What is growth option in mutual funds?
Mutual funds investment made on the growth option will not earn you any income in the short term, which means that all the money invested will continue to be invested until it is redeemed.
This type of mutual funds investment is more suitable for a long-term investment in equity funds, as long as there is no long-term capital gains tax.
Q.What is Dividend option?
Dividend option: Dividends are paid out of the distributable surplus of the mutual funds' investment. They are divided into dividend payments and dividend reinvestments. When paying dividends, declared dividends are actually paid to investors.
On the basis of the reinvested dividend, the declared dividend is used to purchase additional shares from investors.
Q. Can you lose your money in a mutual fund investments?
There are some catastrophic events that could make you lose all your money in a mutual fund. As the mutual funds invest in a variety of stocks, bonds and commodities, it is unlikely that all companies in which the fund invests will go bankrupt. The economy could fail, however. This can make any investment useless.
Q. Are mutual funds investments safe?
While mutual funds are considered a safe investment for income, they are based on the fact that none of the mutual funds is secure, although all mutual funds investments are safe. Well, the security or uncertainty of your mutual fund depends on how you invest in these mutual funds.
Q. What are the advantages of a common fund?
Advantages of investing in mutual funds:
Diversification: A single mutual funds investment can have values of hundreds or even thousands of issuers. This diversification significantly reduces the risk of serious monetary losses due to problems in a particular company or industry.
Q. What is the average return on a mutual funds investment?
Mr. Ramsey, for example, often says that mutual funds investment investors can expect "average annual" returns of 12% based on the long-term performance of the S & P 500. From 1926 to 2010, their website states that the average annual index is 11.84%.
Q. Is it safe to invest SIP?
SIP is the connotation of a Systematic Investment Plan, which is generally marketed as a safe way to invest in stocks to outperform markets and create long-term wealth. But is SIP really safe for an investor? Financial expert Mehrab Irani examines the SIP very carefully.
Q. Which mutual funds are the best?
ICICI Prudential Focused Bluechip Equity Fund.
Aditya Birla Sun Life Small & Midcap Fund.
Tata Equity PE Fund.
HDFC Monthly Income Plan – MTP.
L&T Tax Advantage Fund.
SBI Nifty Index Fund.
Kotak Corporate Bond Fund.
Canara Robeco Gilt PGS.
Q. Is it good to invest in mutual funds?
Integrated diversification: When you buy a mutual funds investment, your money is combined with the money of other investors and you can buy part of a set of investments. A mutual fund has a variety of assets at its disposal that can facilitate investor diversification instead of owning shares or individual bonds.
Q. Will mutual funds make you rich?
The more mutual funds investments you can make, the greater your potential return. It is difficult to get only $ 1,000 invested in any kind of security. However, if you have a substantial investment, you can generate substantial returns even with the most stable mutual funds investments.
Q. How do beginners invest in mutual funds?
The best way to invest in mutual funds is through Systematic Investment Plans (SIP). With SIP, you can buy shares of the chosen mutual funds at fixed intervals (usually once a month) based on your budget. You can associate SIP for automatic direct debits with your bank account. There are many benefits of mutual funds investments.
Policy Planner Advantage

EXPERT ADVICE
Expert advice and an informed, unbiased opinion that clears the confusion and helps you buy that perfect plan for you. Can it get any easier?

POST-SALES ASSISTANCE
Service Managers who assist you with all your post-sale requirements - from claims processing to renewals! They are like superheroes, but only better.
Our Partners