What is car insurance?
Car insurance is a type of insurance policy that effectively supports the expenses of unfortunate events such as accidents, theft and any third-party liability. Car insurance is the best way to protect yourself and your car from financial emergencies, including third party liability resulting from bodily injury, traffic accidents, personal injury to you, your car or third party. Various conditions specific to the car insurance may vary depending on the laws in force in different regions of the country.
What Are Types of Car Insurance?
Comprehensive insurance
Third party insurance
What is Comprehensive Car Insurance?
Comprehensive car insurance covers damage to the third party and your own vehicle. It is best for those who want to cover losses due to accidents and incidents such as theft and natural disasters.
Comprehensive car insurance is the most advanced type of protection you can offer your car. The quote that you get for comprehensive cover is the sum of its components which include:
Third-party premium
Premium for personal injury/personal injury
Premium for Personal Accident Owner Driver Cover – Rs. 750
Additional coverage costs (add-ons)
Goods and services tax - 18%
A comprehensive car insurance covers you for harms caused to your own car which could extend from scratches caused by another car into the middle of a street or your windshield getting broken or your car getting stolen. Other than these damages, comprehensive car insurance covers you from the below few cases:
Road Accidents
Theft
Fire
Vandalism
Falling Objects
Damage done to your car by animals or wildlife
Natural Disasters
Civil Disturbances
The own damage premium depends on the Insured Declared Value (IDV), the engine capacity and the RTO of the vehicle. The IDV is the value of the vehicle based on its ex-showroom price without risk and its percentage depreciation value. The add-on coverage depends on the needs of your vehicle and is therefore variable. The service tax is calculated with the OD premium
What does comprehensive insurance not cover?
If your vehicle is damaged by a collision, you can only apply for a car insurance if you have a fully comprehensive insurance. Likewise, there are many things that were excluded from full motor insurance:
Depreciation
Wear and tear of the vehicle
Electrical or mechanical failure/breakdown
Damage to the vehicle by a person driving without valid license
Damage caused by being drunk and driving
Damage caused by driving under the influence of drugs
Damage to tires and tubes. However, if the vehicle is damaged at the same time, the liability of the company is limited to 50% of the replacement cost.
Loss / damage to the vehicle due to war, nuclear risk
Advantages of a comprehensive car insurance
Comprehensive car insurance protects your vehicle from unexpected events, not only collisions. It also covers the losses due to an accident. Let's take a look at the other benefits of this "non-collision coverage":
It's the highest level of protection you can give your car
If you are found guilty in the event of an accident with a comprehensive insurance, you can claim the damage incurred in such situations
This includes litigation, including legal costs incurred as a result of an accident
Peace of mind and financial protection
Provide financial support for a write-off of your vehicle
Unlike third party liability insurance, it covers damage to your vehicle during an accident.
Third party car insurance protects you from any legal responsibility because of the involvement of your own car in an accident. Be it death, disability, damage or sizeable property to a third party, your insurance provider compensate it. Henceforth, you are protected from the monetary risk emerging towards a third party.
The Motor Vehicles Act, 1988 hosts made Third party insurance compulsory for vehicles handling on the Indian streets. There are no ifs ands or buts. You should host a third party insurance for your vehicle. A car without a third party insurance is considered unlawful.
The quote that you get for third party cover is the sum of its components which include:
The basic third-party premium
Premium for Personal Accident Owner Driver Cover – Rs. 750
Goods and Service tax – 18%
What does Third Party Car Insurance Not Cover?
Some exclusions are not covered by liability insurance. Some of these conditions are listed below:
Accidental loss / damage / liability outside the specified geographical area
Claims arising from contractual liability
The use of the car does not comply with the general "usage restrictions"
The vehicle was driven by a person who is neither owner nor designated driver
Accidental loss / damage to third parties as a result of indirect damage
Liability, directly or indirectly caused by radioactive contamination or nuclear weapons
Loss, damage and / or liability from war, invasion and other acts of war
The list above shows the most common exclusions. A complete list can be found in the car insurance documents.
Third-Party Insurance Premium For Private Cars:
The premium offered for the liability insurance depends on the engine power of the vehicle. The updated prices for private cars are as follows:
| Engine capacity | Third-party liability premium for 2017-18 | Third-party liability premium for 2018-19 |
| --- | --- | --- |
| Less than 1,000 cc | Rs.2,055 | Rs.1,850 |
| Between 1,000 cc and 1,500 cc | Rs.2,863 | Rs.2,863 |
| Above 1,500 cc | Rs.7,890 | Rs.7,890 |
Third-Party Insurance Premium For Commercial Vehicles/Taxis:
The premium offered for the liability insurance depends on the cubic capacity of the taxi. The updated prices are as follows:
| Engine capacity | Third-party liability premium for 2017-18 | Third-party liability premium for 2018-19 |
| --- | --- | --- |
| Less than 1,000 cc | Rs.6,396 | Rs.5,437 |
| Between 1,000 cc and 1,500 cc | Rs.8,408 | Rs.7,147 |
| Above 1,500 cc | Rs.11,144 | Rs.9,472 |
What is covered under your Car Insurance Policy?
Below are the Inclusions and Exclusions in your car insurance
Inclusions
Exclusions
Natural Disasters:
Floods, earthquakes, cyclones, etc.
Drink and Drive:
Damages caused to the car if you or anyone else was caught driving under the influence of alcohol at the time of accident.
Man-made Disasters:
Fire, terrorism, riot, strike, and accidents etc.
Staged / planned Accidents:
Intentional accidental loss is not covered. If it is proven that the accident was entirely staged, the claim would be rejected.
Personal Accident Cover for owner-driver:
Coverage of Rs. 15 lakhs for the owner-driver of the car and optional personal accident covers for passengers.
Illegal Activity:
Driving on the wrong side of the road or without a valid license, or if the car's driven by an underage person.
Third-Party liability:
Compensates for injury or damages to a person or property caused by you to another person in a car accident.
Commercial Activity:
Driving your private vehicle for commercial purpose and vice versa
Other reasons:
An expired policy, consequential damages, electrical and mechanical failure, regular wear and tear, and driving outside geographical limits are other reasons for claim rejection.
Bajaj Allianz Motor Insurance Company Ltd.
ICICI Lombard Motor Insurance Company Ltd.
HDFC Ergo Motor Insurance Company Ltd.
TATA AIG Motor Insurance Company Ltd.
Reliance General Motor Insurance Company Ltd.
Go Digit Motor Insurance Company Ltd.
United India Insurance Company Ltd.
New India Assurance Motor Insurance Company Ltd.
SBI General Motor Insurance Ltd.
Axis Motor insurance Ltd.
Documents needed to apply for
car insurance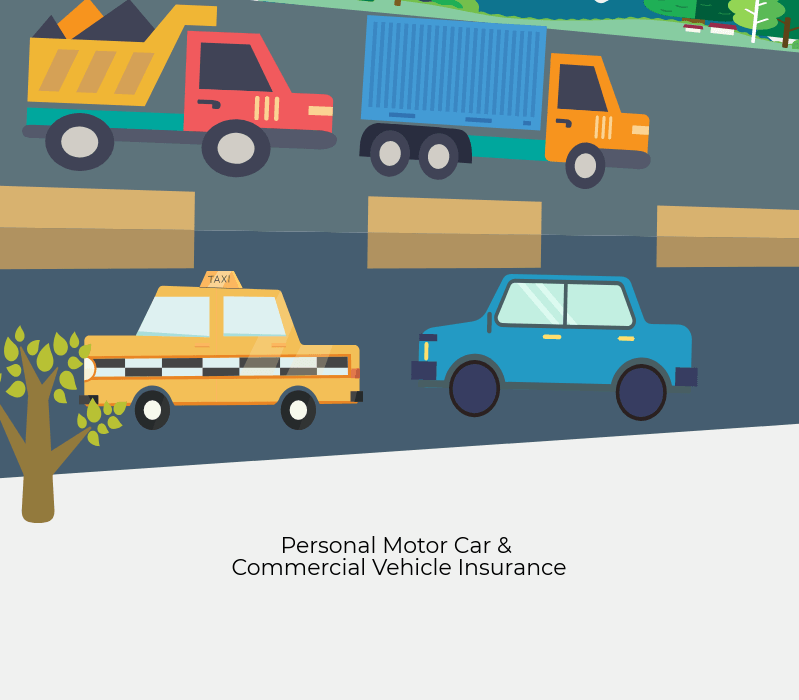 You need to provide below mentations documents to apply for an
car insurance
Zero depreciation, also known as Zero Amortization or Car Insurance Bumper to Bumper is a car insurance policy that excludes the depreciation factor from coverage, providing full coverage. This means that if your vehicle is damaged as a result of a collision, it will not be depreciated from the wear cover of the body parts of the vehicle, with the exception of tires and batteries. The insurance company bears the full cost of the body part for replacement.
Zero-Pay Car Insurance provides 100% coverage for all fiber, rubber and metal parts without deduction of depreciation. Engine damage due to water ingress or oil leakage is not covered. Any mechanical failure, oil change or consumable is also not covered by this policy. The policy limits the number of claims you can claim each year.
No depreciation costs between 15 and 20% of the standard premium. It is a substantial purchase for all new or relatively new cars (up to 5 years).
Car insurance without amortization is advantageous for:
People with new cars
People with luxury cars
New / inexperienced drivers
People living in accident-prone areas
If you are worried about small bumps
If you have a car with expensive spare parts
Renewal of car insurance
Car insurance renewal is an annual process and car insurance expires every year. To avoid the hassles, it is always advisable to renew the policy before it expires. You can renew your car insurance from Policy Planner. You can compare car insurance online and buy one instantly. You can also change your previous insurance company. If you want to carry forward your previous NCB to avail the benefit that also you can avail from online car insurance renewal.
So how to renew your car insurance online?
It is very simple process same as you have bought previous insurance policy.
Step 1: Enter your car brand name, car model, variant and
Step 2: Compare the plans according to feature and premium amount. And any add-on if you want.
Step 3: Just take your RC copy, previous insurance copy (if you have) and fill the details and make a payment. Policy DONE.
You will receive insurance copy on your email and her copy to your address provided.
Visit Policy planner to buy or renew car insurance online in few clicks.
1.Zero Depreciation Cover
For the cost of repair or replacement of plastic, rubber, glass and other materials that would not otherwise be covered by a regular policy
2.Engine Protection
For times when the monsoons are at their destructive worst, and leave your car's engine and your tear glands vulnerable to flooding.
3.NCB Protection
To continue enjoying a discounted premium on your no-claim bonus year-on-year, even after making a claim during the policy period.
4.Invoice Cover
To recover as much as the car's on-road price or Insured Declared Value, in case of total loss (such as theft or a really bad accident).
Q. Can you buy car insurance online?
Answer: Yes, You can buy car insurance online. And you can even renew your car insurance policy online. It is easy, hassle free and paperless procedure.
Q. How can I pay my car insurance online?
Answer: Yes, you can pay your car insurance online using debit or credit card.
Q. What documents are needed to buy car insurance online?
With the availability of an online platform, buying insurance is a very simple and easy process. However, if the insurance company requires it, it is necessary to have the following documents at hand.
The copy of the registration certificate (RC) of the vehicle.
The copy of the invoice for a new car.
Previous insurance policy
There is no booking letter for the required bonus when needed.
Q. What is No claim bonus (NCB)?
Answer: No claim bonus is reward that you get from your insurer for every claim free year. Well you can say that you get reward for being a good driver too! The NCB progressively increases with each no claim year. You can get NCB/discount up to 50%.
| No. of Years | Discount |
| --- | --- |
| One claim-free year | 20% |
| Two consecutive claim-free years | 25% |
| Three consecutive claim-free years | 35% |
| Four consecutive claim-free years | 45% |
| Five consecutive claim-free years | 50% |
Q. Is my NCB transferable? I want to change my insurance company, can I get benefit of previous NCB or transfer my NCB?
Yes, it is transferable! If you have collected the NCB, you can transfer it within 90 days from the due date of your renewal of your four-wheeler insurance policy. If you want to change your insurer (insurance company) at the time of renewal your car insurance, you can also benefit NCB discount by getting it transferred as well.
Q. What is the cheapest car insurance?
Ans: Are looking for buy cheapest car insurance in means that low premium car insurance policy provided by insurance companies in India. Policy Planner provide best car insurance policy, you can compare & buy online car insurance in low premium without any agent commission.
Q. Which is best car insurance policy?
Top 5 best car insurance companies in India with claim settlement ratio 2019
| Insurance Company | Incurred Claim Ratio |
| --- | --- |
| Bharti AXA General Insurance | 81.74% |
| Future Generali India Insurance | 76.50% |
| Liberty General Insurance | 69.62% |
| National Insurance | 84.16% |
| Bajaj Allianz General Insurance | 62.20% |
Q. How do you lower your car insurance?
Ans: Below are other ways to reduce insurance costs.
Buy online car insurance.
Compare insurance costs before buying a car.
Ask for more deductibles.
Reduce the coverage of older cars.
Buy your home owner and your own insurer's coverage.
Keep a good credit history
Take advantage of reduced NCB discounts
Q. What is the purpose of car insurance?
Ans:The main purpose of car insurance is to provide liability cover if someone is injured or killed or another person's property is damaged in a car accident. Liability insurance is mandatory by law in all 50 states.
Q. Why is my auto insurance so high?
Ans:Good drivers pay low premium for insurance because they are less likely to make a complaint. However, if you receive car quotes or accidents, you can be considered a high risk driver. High risk car insurance premiums cost much more as people with a bad driving history claim more.
Q. What is important for car insurance?
Ans:The most important coverage should be the minimum liability of your state and coverage of property damage. Above all, it is necessary to maintain a car insurance to be legally managed.
For your financial protection, it is important to have coverage to protect the property and medical expenses of others.
Q. Why do I need auto insurance?
Ans:Why is car insurance necessary? Car insurance is essential because it covers costs for damage or injury to other drivers, passengers or pedestrians. All drivers must be insured against their responsibility towards third parties, as established by the 1988 traffic law.
Q. What does my car insurance cover?
Ans:Comprehensive insurance is an optional auto insurance that protects the vehicle from damage not caused by collision and theft. It covers a wide range of events that can damage your car, including vandalism, fires and stone falls on winding mountain roads.
Q. What happens if car insurance lapses?
Ans:Car insurance lapses can be very risky and penalized and should be avoided. In this case, however, it is necessary to know how to solve the problem. You have to face fines and penalties when they arise, but your main job is to get coverage.
Q. How does car insurance work if I'm at fault?
Ans:After a car accident, you may be wondering how your car insurance covers it. Damage to your vehicle will be covered by the policy if you have purchased collision insurance. In most states, the insurance policy also covers non-indebted vehicle damage. Medical care varies by state.
Q. How car insurance is calculated?
Ans:Here's how Premium car insurance is calculated based on three factors. The declared value insured or IDV is the value of the vehicle estimated by the insurance company when it applies for auto insurance for the first time. The age of the car is another important factor that determines the premium of car insurance.
Q. Do you pay car insurance every month?
Ans:Monthly car insurance payments. If you can't pay the full annual insurance on your car in advance, don't worry. Many insurers offer the possibility of paying their coverage in monthly installments. Most insurers apply an additional commission for monthly payments and interest.
Q. What happens if you don't have car insurance?
Ans:Driving without insurance is illegal in most states. Depending on the state, penalties such as fines, loss of driving license and vehicle registration and even incarceration can be a threat. If an accident occurs without insurance, all damage to the vehicle must be paid out of one's own pocket.
Q. Do I need car insurance if I don't drive my car?
Ans:Your insurance company can also call this insurance "Comp." It is important to know that "comp only" insurance does not make the car legal. If your vehicle has only complete insurance, it is forbidden to drive this vehicle on the road. States require at least liability insurance.
Q. Should I call my insurance if it wasn't my fault?
Ans:Yes. Regardless of your fault, it is important that you call your insurance company and report any incident that caused injury or property damage. A common myth is that it is not necessary to contact the insurance company if you are not in debt. To use them, you need to inform your insurance company.
Q. What is IDV in car insurance?
Ans:Insured declared value (IDV) Definition: The declared insured value is the maximum amount specified by the insurer, which is provided in the event of theft or total loss of the vehicle. Basically, IDV is the current market value of the vehicle.
Q. How is IDV calculated for car insurance?
Ans:The insured declared value (IDV) is the current market value of the vehicle minus the depreciation of its parts. The costs for vehicle registration and insurance premiums are excluded from the IDV. If the accessory in the vehicle is not factory installed, the IDV of these parts will be calculated separately.
Q. Is IDV important in car insurance?
Ans:The IDV is the "sum insured" in the car policy. This is the amount your car is insured for and forms the basis of all agreements if the car is stolen or damaged in an accident. If you insure your car for the first time or at the time of replacement, the IDV plays an important role.
Q. Is paint damage covered by insurance?
Ans:Comprehensive insurance can cover paint damage, but only if it is not due to an accident. For example, paint damaged by vandalism, theft or fire is generally covered by full insurance.
Q. What documents are required to use the property without cash?
Ans:The documents required to claim the credit are:
A copy of the vehicle book.
The copy of the driver of the person driving the vehicle.
Application form duly completed
Original RC Book
FIR copy in case of accident / death of third parties.
You must read the policy document to verify the required documents other than those listed
Q. Can I cancel car insurance anytime?
Ans:Yes, the policy can be canceled and the unused premium amount will normally be repaid in proportion. This is only the case if an alternative insurance test is offered and the requests are not presented 30 days before the policy expires. In the event of a complaint, no refund will be made. There may also be a nominal cancellation that will be charged.
Q. How do you compare car insurance before choosing one?
We all know that too many options mean too much confusion. Therefore, it is necessary to compare the plans before the election based on:
Car insurance company: examines the company's previous records on the number of requests resolved and the time required to resolve such requests.
Premium and coverage: the balance between the premium you want to pay and the coverage you really need. Don't forget to add add-ons accordingly.
Cashless network Garage: familiarize yourself with the nearby insurer's network garages. You need to remember that you can use cashless services in these workshops.
Q. What is the additional protection for personal accidents?
Ans:The personal accident insurance available with mandatory liability insurance is up to Rs 1 lakh. However, this coverage can be increased with the optional Personal Accident Insurance, which is available to pay an additional premium. This driver provides coverage for temporary or permanent disability and death due to an accident. Most auto insurers recommend opting for this coverage because it will cover the financial burden in unexpected situations.
Q. How to renew car insurance online?
Ans:You can visit the insurer's website and enter the details of the previous year's car insurance. If you have not submitted a claim during the insurance period, you are entitled to a payment without compensation (NCB) which represents a discount on the car insurance premium.
You can check and compare the different auto insurance policies of different insurers to get the best auto insurance best suited to your needs before buying them on an online aggregator website. The renewal process is the same in most online web aggregators.
Q. What is endorsement in car insurance?
Ans:The written proof of an amendment agreed upon by the Council is called approval. It is a document that contains changes to the policy. If necessary, an additional premium will be charged.
Q. Do I have to inform the insurance company if I use a CNG or LPG kit in my vehicle?
Ans:When installing the GNC / LPG kit, it is necessary to inform the Road Transport Authority (RTA) where the vehicle is registered and your insurance company. The RTA will register the change of the registration certificate (RC) and the insurance company will inform you of the payment of an additional premium for the value of the kit included in the "OD" and "TP" sections. The adjustment of the CNG should be included in the ban on RC, which would invalidate an insurance claim.
Q. What is comprehensive car insurance?
Ans:Comprehensive car insurance covers your car from theft, fire and vandalism. It also protects from natural disasters such as hurricanes, floods, earthquakes or civil unrest, such as disorders that damage your car. A list of covered hazards is provided in the policy document. Be sure to check the list to understand the protection offered. In addition, it also covers any legal liability arising from damage to third parties caused by your vehicle.
Q. What is motor vehicle liability insurance?
Ans:The motor liability insurance covers only the legal liability for loss and damage to third parties due to your vehicle. It does not cover you or your car for damages.
Q. What is a depreciation on car insurance?
Ans: Depreciation in vehicle insurance refers to depreciation due to vehicle wear. The amortization rate is significant from the moment you purchase the auto insurance policy. It applies to all auto parts, except glass. The depreciation rate for rubber, plastic parts, tires and hoses, batteries and airbags is 50%. 30% for all fiber components.
Q. What documents are needed to cancel your car insurance?
The documents requested by customers to cancel the policy are as follows:
The documents requested by customers to cancel the policy are as follows:
customer request letter
Alternative policy test (TP / Integral)
Original copy of the policy
Proof of sale or vehicle sales certificate / Forms 29 and 30 together with an RTO confirmation. (if the vehicle is sold)
NOC of the financier.
Policy Planner Advantage

EXPERT ADVICE
Expert advice and an informed, unbiased opinion that clears the confusion and helps you buy that perfect plan for you. Can it get any easier?

POST-SALES ASSISTANCE
Service Managers who assist you with all your post-sale requirements - from claims processing to renewals! They are like superheroes, but only better.
Our Partners